A medieval setting in Savoy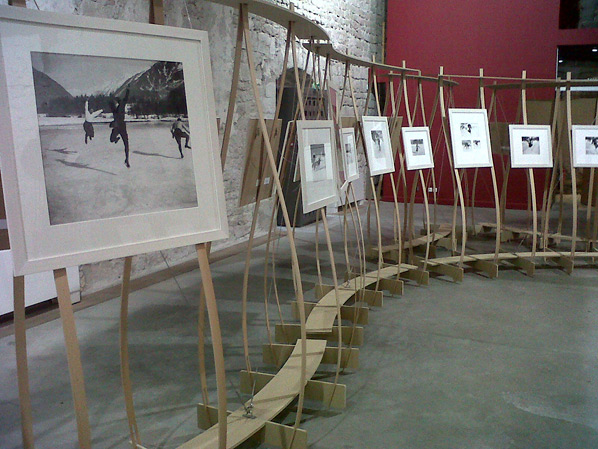 I was already familiar with Lartigue's photographs of early flying machines, of motorcars and of fashionable beauties walking in the Bois de Boulogne; his vision of the Belle Epoque appeals to a wide audience. But as an archivist and a historian, these interest me little; they offer a one-sided, subjective view of a complex subjet. I am extremely drawn, however, to his insight and sensitivity, and impressed by his ability to capture movement. Therefore, when the FACIM Foundation director Marine Leloup showed me the Lartigue winter scene series, I was immediately seduced by the idea of presenting a two-sided exhibition (an idea that Lartigue would have enjoyed as well, I think): offer visitors a glimpse of snow during the hot summer months, and remind them of a somewhat forgotten tradition of winter sports and activities that are now forgotten, overtaken by ski resorts.
The exhibition was to be set up in the Hautecombe royal abbey, a former Cistercian monastery. Numerous visitors come each year to admire this impressive, 300m2 medieval structure, whose proportions and austere beauty inspire introspection, as intended by the Cistercians. Our scenographer, Alexandre Bénard, from the Newaru agency in Chambéry, decided against temporary walls or dividers, which would spoil the structure"s simplicity and elegance, and imagined flexible wooden structures that recall a streamlined boat hull, similar to those beside the nearby lake, beneath the colossal vault. In this way, he retained a sense of fluidity and transparency throughout the entire space, while guiding visitors throughout the hanging: the pleasures of ice-skating in the first section, snow and skiing in the second, and friendship and landscapes along the perimeter.
While set design for photography exhibits traditionally tends to be discreet, almost invisible, ours remains quite present; the visitors can see the backs of picture frames and of the decor. But Monsieur Lartigue has nothing to fear; he retains the upper hand. The setting is just right for an intimate exchange, at once joyful and nostalgic, between the viewer and the photographer.
Jean Luquet
Chief Curator, French Cultural Heritage
Exhibition curator
July 2011
---
Exposition présentée du 10 juin au 20 septembre 2011
Abbaye d'Hautecombe

73310 Saint-Pierre-de-Curtille
04 79 54 26 12