And now to you, modest photographs, to do what you can  – very little, I know  – to tell everything, explain everything, reveal everything … and above all, that which cannot be photographed.

(Journal 1931)
This exhibition focuses on the 1920s, the years of Lartigue's marriage to Madeleine Messager, known as Bibi -Lartigue's first wife and mother of his only child, Dani.
Despite his talent as a photographer from a very young age, Jacques Henri Lartigue was discovered in the United States in 1963, at the age of 69. His first exhibition in New York focused primarily on his works from the Belle Epoque, when the dazzling snapshots by the young Lartigue would make him a star. However, the richness of his work goes far beyond these early pictures.
His years with Bibi (1918-1930) form a highly constructed whole in Lartigue's life and work. Robust and joyful, Bibi provided an anchor for Lartigue's anxious sensibility, and Lartigue magnified his wife's serene force by his use of the panoramic format. It was also with Bibi that he made his most beautiful autochromes. In high society on the French Riviera, in Biarritz or Deauville, he captured through his lens France's elite at leisure, with Bibi constantly at the center. When she filed for for divorce in 1930, Lartigue was devastated: "My broken heart only wishes her well."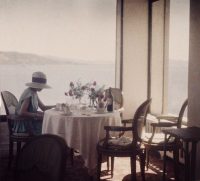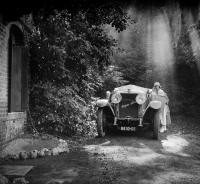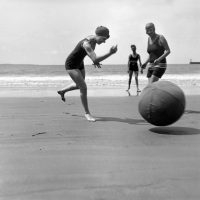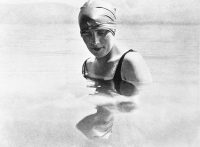 PRESENTATION
140 black-and-white prints, framed
6 facsimiles of pages from Lartigue's albums, framed
10 transparent autochromes, framed
9 stereoscopic views 6×13 cm and a stereoscopic viewer
CRATE LIST
Crate A: 29 framed works
Crate dimensions: 130 cm x 50 cm x 85 cm
Weight = approx. 90 kg
Crate B: 34 framed works
Crate dimensions: 150 cm x 40 cm x 60 cm
Weight = approx. 60 kg
Crate C: 20 framed works
Crate dimensions: 90 cm x 60 cm x 80 cm
Weight = approx. 70 kg
First presented at the Rencontres d'Arles festival in 2013, this exhibit was subsequently shown at The Photographers' Gallery, London, in 2013 and at the Multimedia Art Museum, Moscow House of Photography in Moscow in 2014.