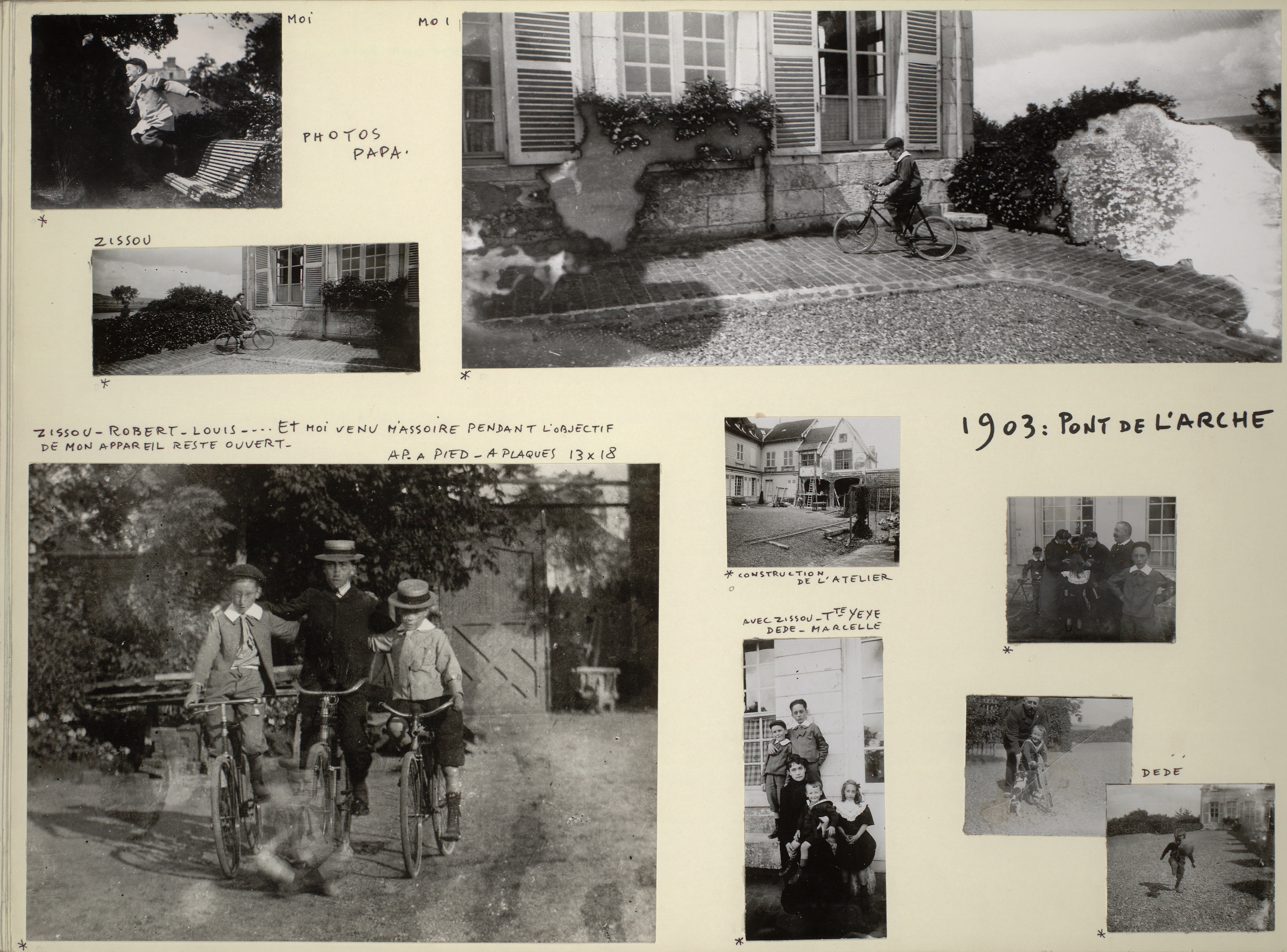 On the back of page 18 in his album from 1903, Lartigue noted a stunning discovery. Having experimented with his first camera, which required a great deal of light and therefore necessitated a long exposure time, he writes in the caption: "Robert, Zissou, Louis… and I, sitting in front of them while the lens is still open. I am in the picture, but am transparent!"
In 2012, the Franco-German TV network Arte launched a documentary series on the history of photography from its inception to the present day.  Each of the 12 episodes in the series deals with an important photographic movement. The series was produced jointly by Arte France and Camera Lucida, with the support of the Centre Georges Pompidou, the Musée d'Orsay and the Bibliothèque Nationale de France.
Lartigue appears in the episode entitled "Pictures of Intimacy," aired on November 3, 2013. Under the aegis of Stan Neuman, the series' creator and director, the film was directed by Alain Nahum with scientific of Quentin Bajac, chief curator of photography at the Museum of Modern Art, New York. This episode explores the way photographers have played with concepts of performance and privacy, concealment and display, starting with the exhibition of Lartigue's albums at MoMA in 1963, which inspired a new movement called diarism. The director brought together several photographers who use the camera as a tool of introspection, becoming increasingly radical as they recorded their everyday lives. Lartigue"s work is presented alongside that of Nobuyoshi Araki, Nan Goldin, Antoine d'Agata, John Coplans, Hervé Guibert and others.
To find out more about the series :
Episodes which have already aired in 2012:
Primitives Photography (1850-1860)
The German New Objectivity
Staged Photography (from 1960 to the present day)
Pictorialism
New Vision, Experimental Photography in the 1920's