Jacques Henri Lartigue's love of the sea and coastline is obvious when browsing through the 130 photographic albums he made throughout his lifetime. As a child, he spent time on the beaches of Biarritz, Trouville and the French Riviera, and was inspired by the intense encounter of earth, sky and sea. He thus spent a third of his life wandering the coasts, contemplating and taking in their elegance, their beauty, their playfulness, in moments of calm or during a storm.
In 1897, Lartigue comes upon the sea for the first time.
" Ambleteuse. The sea! I still had my shoes on from the train ride, so I couldn't go in the water, but I ran as fast as I could down to the beach. Mother speaks of "the good air" ; but it's much more than air, air doesn't make you laugh and put you in a daze and make you see so far away… I kept running, I wasn't told not to yet… I quickly looked into a transparent puddle to see if I could catch a glimpse of a shrimp !?!? I can't wait for tomorrow morning! Daylight and going barefoot! The scent of seaweed…it will all be mine !
I won't go back to Paris, I'll stay here forever and ever. I'll never again have to buy a shell to listen to the sea in Paris ». (« Mémoires sans Mémoire », published by Robert Laffont, Paris 1975)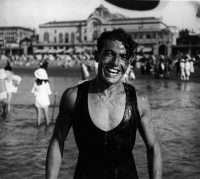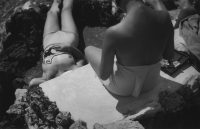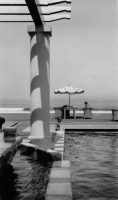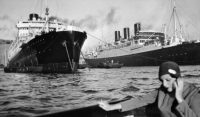 At the beginning of the 20th century, going to the seaside for the holidays was a privilege reserved for the upper class. But visitors from the city kept their well-mannered ways and stylish urban dress codes. Women took strolls on Etretat's waterfront boardwalk or lounged about on Villerville's beaches, clothed from head to toe, wearing straw hats and carrying parasols to protect them from the sun. They sat straight up on hard chairs rather than of sitting on the sand, as if to not quite succumb to the appeal of the « wild ».
New pastimes emerged after the Great War, such as swimming, canoeing, playing ball, physical culture, shrimp netting… The elegant Parisian style was nevertheless customary, as seen for example in Biarritz or Deauville: hats, umbrellas and gloves were still very much in fashion. However, attitudes changed, swimsuits made their appearance and there was a more relaxed attitude about bodies, sunbathing and the wholesomeness of sea air. This new way of life thrilled Lartigue and suited his free spirit and his love of movement. During these years, he photographed his friend Sala frolicking in the waves in Biarritz, or Maurice Chevalier doing handstands in Royan.
He visited the French Riviera faithfully, and even preferred it during the off-season months. There, he took photographs of women in his life, including Bibi, in Antibes' « Hotel du Cap » poolside tearoom, which was later named the « Eden Roc » (autochrome 1920), or Renée, leaning on a banister beneath a large parasol (Eden Roc, 1930).
In 1932, he worked as an assistant for film director Alexis Granowsky, on the movie set for The Adventures of King Pausole, in which the monarch has a wife for each day of the year. Put in charge of casting one hundred and sixty "queens" for the film, Lartigue took amusing snapshots of the bathing beauties during the film shoot.
Jacques Henri Lartigue's photographs are fashionable souvenirs of his time, of elite holidays and high society's posh gatherings; he also loved roaming the shore at dawn, alone, and works such as his November 1924 self-portrait in Merlimont's dunes or the early morning swimmer in Hyères in 1929, reveal his meditative moods. A photograph of his friend Sala seen from behind, looking out at the ocean at Biarritz' Rocher de la Vierge in 1927, also shows how he photographs similar moods in others.
Stormy weather was never a deterrent; Lartigue loved all types of weather and would not have missed a thunderstorm for the world; some of his most striking images of unleashed nature include his photographs of Dieppe in December 1928, or of the Negresco Beach in Nice in March 1934.
Lartigue's photographs are souvenirs not only of family vacations, but of a way of life, and he strove to capture each unique moment for eternity.
The exhibition Rivages was organized by the JH Lartigue Donation. Shown for the first time in 1990 at the Grand Palais in Paris, it has since traveled extensively. The exhibition opens in the Havre's André Graillot Hall in January 2012.
---
Exposition présentée du 14 janvier au 22 avril 2012
Espace André Graillot

Musée maritime
Chaussée Kennedy
76600 Le Havre
Tél. 02 35 25 37 39
Site de l'Espace André Graillot