Along with our wishes for a happy new year, we are delighted to share this photograph, which will be shown in 2017 in several exhibitions organized in collaboration with the Lartigue Donation, including "J. H. Lartigue: Images of a Floating World," organized by Florian Rodari, which will be presented at the Sang Sang Foundation in Seoul, Korea, from April 1 to July 10, 2017; and "Lartigue à la Baule, 1913-1929," curated by Martine Ravache, opening at the Bernard Boesch Museum, La Baule, on July 1, 2017; it can also be seen in Bernard Toulier's recent book Jacques Henri Lartigue : Un dandy à la plage, published in October 2016 (Editions Carré – La Découverte).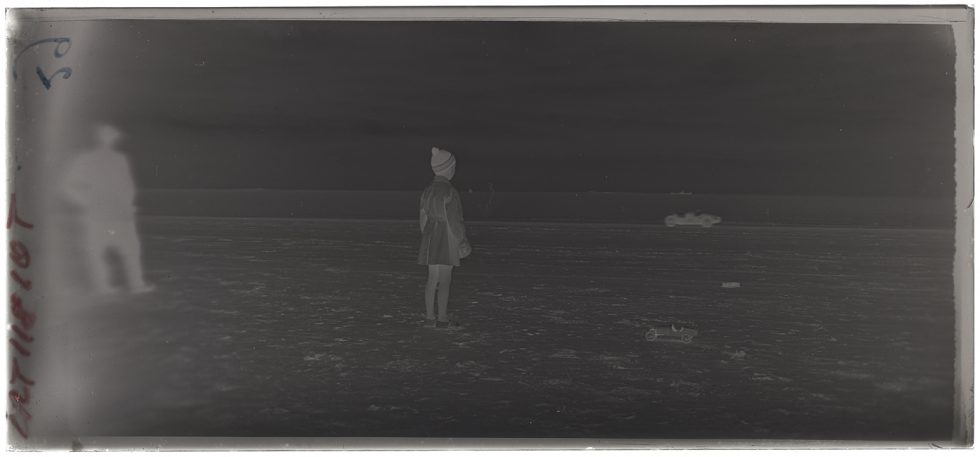 Dani, Grand Prix de La Baule was taken on this glass plate negative measuring 6 x 13 cm—an unusual format frequently used by Lartigue between 1922 and 1930. The Donation Lartigue recently digitized 2,176 of his 6-x-13 cm negatives from the period. For these photographs, Lartigue used a Knapp Nettel stereo panorama camera, which (as its name suggests) offered him the possibility of choosing between a stereoscopic or panoramic shot by simply removing one of the two lenses. Initially working in stereoscopic mode (5,000 negatives conserved to date), Lartigue often used it in panorama mode as of 1922.
"The period of these 6-x-13 photographs (1922-1931) is one of extraordinary change in photography, (…) the elongated format, with its optical distortions – greatly exaggerated in the foreground, altered perspective around the edges – helped to situate Lartigue in the creative vision of the time."
Michel Frizot, Le Passé Composé, les 6 x 13 de Jacques Henri Lartigue, 1984.